How to add an ID printer on macOS
Make sure you are using the latest macOS 12.3 (resp 11.6.5) or later. The older releases are known to have problems with ETH printing.
Install driver
Download and install the required drivers, depending on the printer model
Install print queue
Open System Preferences -> Printers & Scanners and click on the + in the bottom left corner.
Select the Advanced tab (see below if this icon is missing)
Choose Type -> Windows printer via spoolss.
Enter the URL of the print queue.

pull-printing: smb://pia01.d.ethz.ch/card-ethz
specific printer on Hoengg: smb://pia02.d.ethz.ch/p-building-floor-room

Provide a name and location.
Click Use -> Select Software and choose the appropriate driver

MP C3003 for card-ethz or A3 printers
MP C305 for most other printers
Generic PostScript Printer if the others are unavailable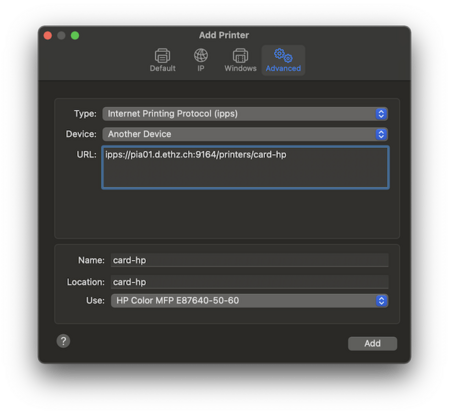 Once the printer is added, you may optionally configure additional trays by clicking the Options & Supplies button and opening the Options tab. Then select Option Tray: Tray 2 if your printer has a second paper tray.
Further settings (Color or Black&White, Paper Tray, etc) can be made when printing.
Authenticate
On submitting your first print job, you will be required to authenticate with your n.ETHZ username and password. Make sure to prepend your username with d\.
Use the Keychain Access application to delete wrong or outdated passwords.
Customize toolbar to add the Advanced icon
Right-click on the toolbar and select Customize Toolbar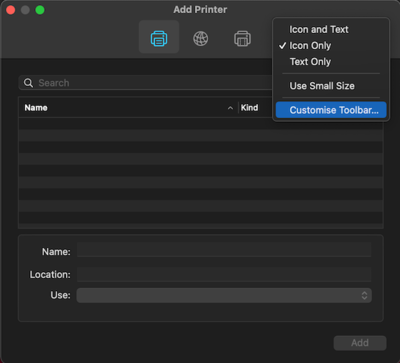 Drag and drop the Advanced icon to your toolbar