Adobe Creative Cloud Shared Licenses
This documentation refers to the shared license (SDL) on our RDP servers. Please refer to the Adobe Creative Cloud documentation for all matters regarding the normal, individual licenses.
Adobe ID
If you want to use Adobe applications on one of our Remote Desktop servers winlogin.phys.ethz.ch (for D-PHYS user) or wints.igp.ethz.ch (for D-BAUG IGP user), you have to Sign In with an Adobe ID.
If you already have ordered a payed Adobe ID from IT Shop or have a private one, you don't need to create an additional ID, just use the existing Adobe ID for log in.
Create an Adobe ID
If you don't have an Adobe ID you have first to create it. This can be done for free. Just follow the registration process according these screen shots.
After login to the Remote Desktop server, start an Adobe application eg. Adobe Acrobat Pro.

You will be shown a Sign In page. Click on Get an Adobe ID to start the registration process for a free Adobe ID.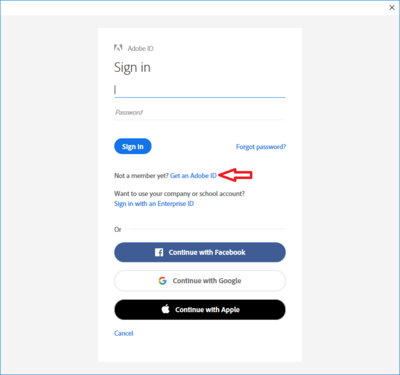 Fill in the form.

Important: Use a valid email address.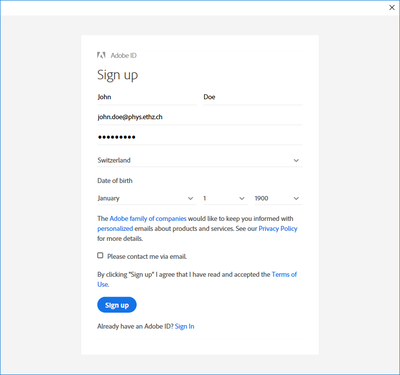 Adobe will send you an email to the address you entered. Wait for it and click on the verification link. After this step, click on the blue button Check again and continue and you should be logged in successfully.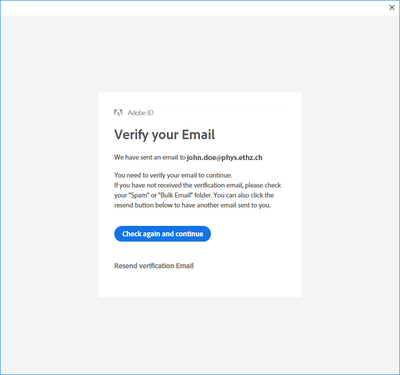 Now you are able to use the Adobe applications. Sometimes you will be prompted again to enter the email address and password. So please remember these credentials for later use.