Using Windows RemoteApp
Windows RemoteApp let you start an application direct on your Computer without the Desktop from the Terminal Server.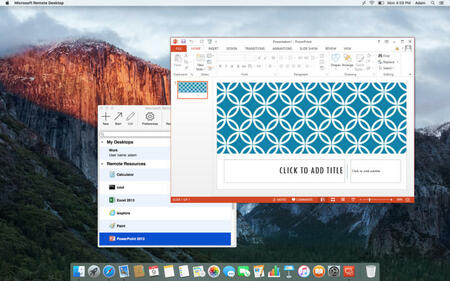 Prerequisite
Windows
macOS
linux
How to use for sporadic user
This will open your RemoteApp temporary on your Desktop
go to winlogin.phys.ethz.ch
login with your phys account in ad\your_dphys_username format
chose an application and save this file on your local storage
run the downloaded file
Select the Checkbox Dont't ask me again for remote connections from this publisher and chose Connect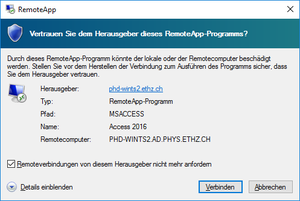 enter your credentials in ad\your_dphys_username format
How to use for regular user
You can add all remote apps permanently to your startmenu with this following steps.
Windows
The manual will you find here
macOS
Open Microsoft Remote Desktop
Click the Remote Resources icon
Enter https://winlogin.phys.ethz.ch/RDWeb/Feed/webfeed.aspx as URL and your D-PHYS credentials
On the first connection you may follow the settings of the screenshot below.