Apple TV
We describe how to configure an Apple TV to connect to the ETH wireless network.
Apple Configurator
Install the Apple Configurator from the AppStore.
Start the Apple Configurator from your applications.
Create Profile
Create a new Profile in the menu File -> New Profile.
Give it a name in the General tab.
Download and extract the required certificates (valid until January 2022).
Configure Certificates and select all the *.cer files you just downloaded.
Configure Wi-Fi according to the screenshot below. Use your personal ETH wifi account for testing purposes. If you want to use an AppleTV for presentations in your group, we can create a dedicated technical account for authentication or help you connect it to the IoT network.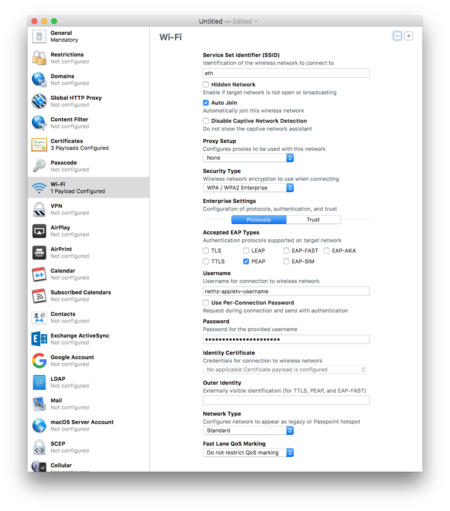 Make sure to check all certificates in the Trust tab.

Save the profile. Note that this file contains the Wi-Fi username and password in plaintext.
Configure Apple TV
Connect your Apple TV with a USB cable to your computer.
Wipe the Apple TV by selecting it, then right-click and choose Advanced -> Erase all Content and Settings.
Follow the instructions on the screen and wait for the device to be rebooted.
Right-click and choose Modify -> Device Name and give your Apple TV a telling name.
Right-click and choose Prepare and make the following settings:

'Do not enroll in MDM'
Network: Wi-Fi
Profile: YourAppleTVProfile
Your AppleTV should now be connected to the Wi-Fi and can be used by computers on the same wireless network.