Mail filtering with Sieve
The D-PHYS mail server supports mail filtering with Sieve. You can edit your rules in the Roundcube webmail.
The rules only apply to new, incoming mails and not those delivered in the past.
All changes must explicitly be saved to take effect.
So-called filter sets can be used to group multiple filters.
Use the + button to add new filters or filter sets.
Filters (and filter sets) can be toggled on and off using the cogwheel on the bottom.
The order of the filters can be changed with drag'n'drop.
Vacation Auto-Reply
The following shows how to configure an automatic out-of-office reply.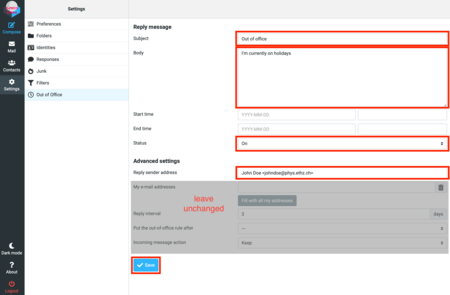 Email Forward
The following rule forwards all messages to a different email address.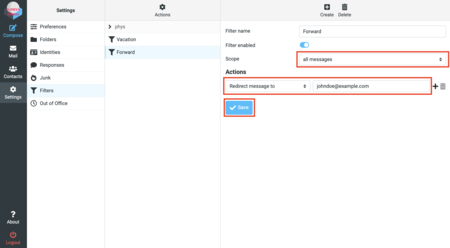 File mail into folders
The following example automatically files all messages from Alice and Bob into the Friends folder.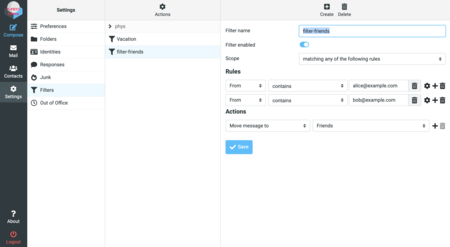 You may also wish to discard all mails matching a given subject or sender domain. The following automatically moves them to the Junk folder and marks them as read.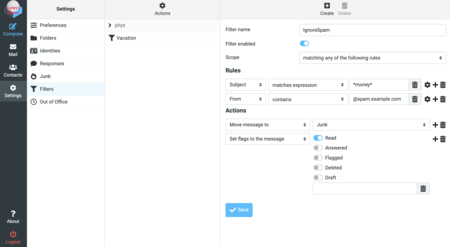 Raw editing for power users
Power users may want to edit the sieve rules directly as plain text.
Select the filter set you want to edit
Click on the cogwheel on the bottom and select Edit filter set