Spaces
Spaces are a new feature in Matrix/Element to group rooms and build communities. Read more in the Spaces blast out of beta blog post.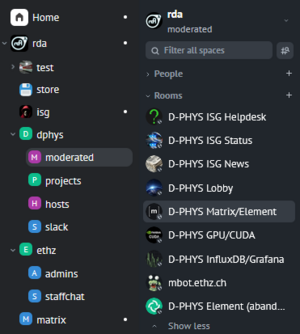 Forming hierachies of spaces as shown above is still in beta test with some features missing. We recommend sticking with top-level spaces for now.
Read more about spaces.
Types
There are 2 types of spaces:
Public space: Open for anyone, best for communities
Private space: Invite only, for teams or for yourself to organize rooms
Creating spaces
Click on the + (plus) icon in the space panel on the left and choose a public or private space:
Public spaces
Public spaces can be joined by anyone without an invite. They also require to set an address in the form of #group-spacealias:phys.ethz.ch like it is done for public rooms.
Private spaces
If you choose a private space, you will be asked who you are working with - just ignore this and continue with Managing spaces below. We recommend not to try inviting people via email address, since this may not work as expected.
Restricted rooms
Within a private space it is now possible to have rooms that restrict access to space members. This means members of your space can join without an invite and all others need an explicit invite.
Read more about restricted rooms.
Managing spaces
To add rooms and invite people, right click on the space and select Manage & explore rooms. This will open the space view, from where you can add rooms and invite others.
You can add existing rooms or directly create new rooms in the space. This will by default create a restricted room (visible to space members):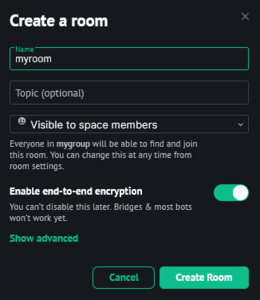 If you add an existing room and would like to set the access to restricted, open Room settings > Security & Privacy > Access and select Space members.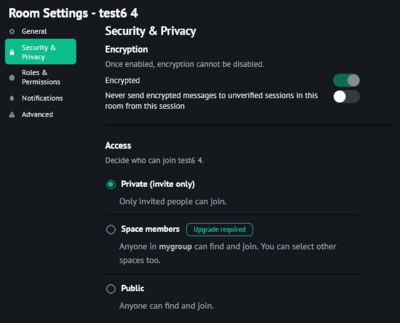 Room upgrades
Switching rooms to restricted access currently requires a new room version. Upgrading an existing room will result in a new room, the old room and messages will be hidden. Existing members can automatically be invited to the new room. The older room and messages can be accessed via Room Settings > Advanced > Room version.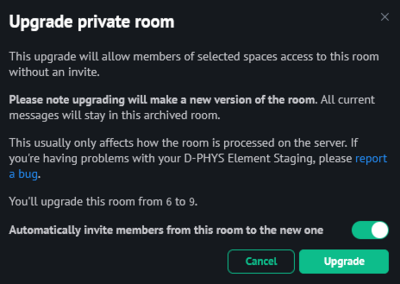 Read more about room versions.
Migrating communities
The old communities are hidden, but community admins can migrate them to spaces.
Open Settings > All settings > Preferences > Communities > Show my communities and click on Create Space, which will guide you through the migration process: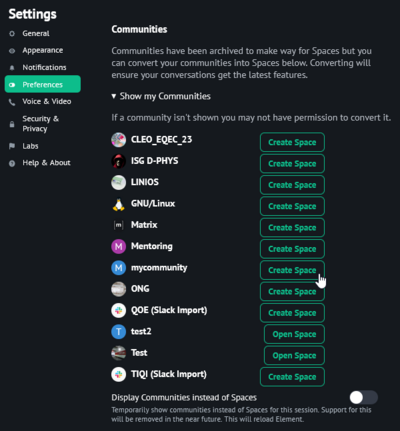 For further steps see Managing spaces above.
Need help?
Join #matrix:phys.ethz.ch, we are happy to assist.