Frequently asked questions (FAQ)
This room is annoying, how to control notifications?
If you receive unwanted notifications for some room (e.g. our Helpdesk room), you can control the verbosity level in the room settings: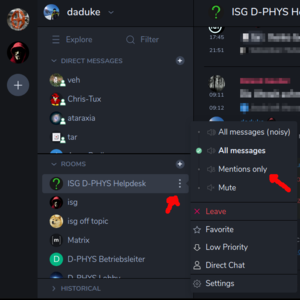 See also Element notifications
Why are my messages not encrypted?
This means your messages do not use end-to-end encryption (e2ee). Your connection to our server is still secure and encrypted using TLS.